Software Provider of Spin Town Video Slot Game
Spin Town is yet another great slot by the software provider - 'Red Tiger Gaming', which is a multi- award winning casino supplier for a while now. The main agenda of the software team at Red Tiger is to find innovative and exciting ways to balance the artwork and science of the casino game designs, which is a theory completely justified by the magnificence and Fun- tastical design of Spin Town.
Some of the other popular games by Red Tiger Gaming includes Slots like Lucky Mr. Green, Mystery Reels, Mystery Reels Megaways, Red Diamond, Reel Heist, Lucky Valentine, Crazy Genie, Lucky Wizard, Fortune House, Puss 'N Boots, Jack In A Pot and much more. All these games can be operated on multiple platforms, may it be your Smart Phone (or Mobile), a Desktop (or PC), a Laptop or a Tablet. This software manufacturer uses the HTML5 technology and supports a multilingual system, thus making its casino games accessible to players all around the world.
Bonus Game Features & Special Symbols at Spin Town Slot
Multiple Wild Symbols
In this game, multiple number of Wilds will gather at the edge of the slot reel, while the lights are red on the top of the game. There are about 15 different characters in Spin Town Slot that act as Wild Symbols. They start to cross the slot reel when the upper traffic lights turn green (or when the green man appears), allowing these Wild Characters to move 1 step per spin. Each of these moves/ steps can further lead to the activation of special Wild Features that are as follows :
Sleepy Wilds Feature : These are indicated by an old man and woman that might fall asleep during their walk (i.e. they tend to loosely act as Sticky Wilds), leading them to stay on the slot reel for long periods of time or game rounds.
Speedy Wilds Feature : These Speedy Wild Types are faster and younger and might move 2 steps at a time on each spin. They are amped up to go places !
Couple Wilds Feature : This is represented by two Couple Wilds, whom, if they met on the reel, tend to combine to turn in to a Wild Umbrella, thus sticking on the reels as Wilds, with a 2x multiplier when captured on a winning combination. Moreover, only one Couple Wild can be activated per line.
Rock 'N' Roll Shuffle Feature
If a game player manages to land 3 'Rock 'N' Roll Symbols' ( i.e. The Beatles Rock 'N' Roll) on the slot reels, then the 'Rock 'N' Roll Shuffle Feature' will activate four 'Rockin' Wilds' that can cross the slot up to a total of 10 times.
Guardsmen's March Feature
In the 'Guardsmen's March Feature', the landing of 3 'Guardsmen Symbols' (i.e. the Royal Guards are on the duty here) on the reel will activate the '1x2 Mega Wilds'. These Wilds can cross the reels of the slot game from both sides.
Hooligan Advance Feature
For the 'Hooligan Advance Feature', a player has to land 3 'Kick Off Symbols' (in short, it's time to enjoy the Football Hooligans), which will in turn trigger the occurrence of the 'Hooligan Wilds' on the reels. These Wilds are allowed to cross the slot reels from either side. Also, they tend to move as closely packed groups.
Pay Out Rate of Spin Town Video Slot
| Symbols | 5 on a Payline | 4 on a Payline | 3 on a Payline |
| --- | --- | --- | --- |
| Wild Symbol | 400x | 120x | 40x |
| Money Bags Symbol | 300x | 100x | 32x |
| Helmet Symbol | 200x | 60x | 24x |
| Stereo Symbol | 160x | 40x | 20x |
| Wallet Symbol | 100x | 32x | 16x |
| Key Symbol | 80x | 28x | 16x |
| A Symbol | 60x | 24x | 12x |
| K Symbol | 48x | 20x | 8x |
| Q Symbol | 40x | 16x | 8x |
| J Symbol | 32x | 12x | 4x |
| 10 Symbol | 20x | 8x | 4x |
Summary of Spin Town Slot Game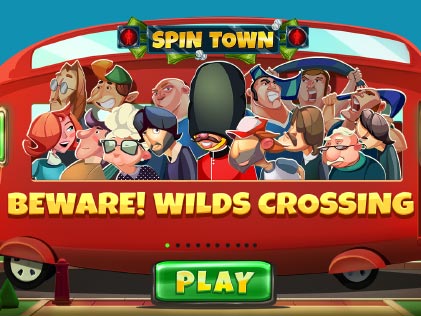 If you are looking for a fun slot that gives out multiple wins in a short amount of time, then this is definitely the right slot for you. Spin Town is a 5 reels and 4 rows video slot game with a low variance and a RTP of 96.23%. It is designed by the software manufacturer Red Tiger Gaming and has a total of 40 bet lines for you to win with. This game takes you to the middle of the road, in an old town of England, with pedestrians waiting on the side walk for the traffic man to turn green.
Despite not having a Free Spins Feature, it makes up for it big time by using multiple Wilds, that can further trigger no more than 3 Wild Features in the game. There are other Bonus Game Features in this game as well. The game is extremely fun to play for those who get bored easily and like to win continuously. The maximum pay out will be 400x your total stake, with the possibility of many small wins on your path. The features and graphics of the game are high quality and very lively. There is not a single moment in this 'Spin Town' slot game that is dull or uninteresting.